Las Venturas
is the biggest city in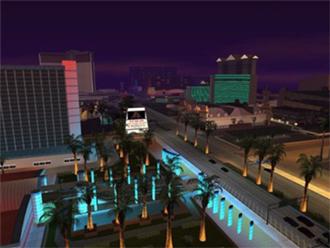 San Andreas
, which is famous for its biggest in the country
Las Venturas Casinos
.
Las Venturas is a gambling city located in desert region. Here are the famous casinos located such as Caligula's Palace and The Camel's Toe.
The prices for goods, such as drinks, food, clothes are 20% higher than in cities of San Fierro or Los Santos. This is one of the reasons, why people don't live there, and prefer areas away from Las Venturas.
Local LifeEdit
Las Venturas has a large freeway system circling and splitting the city into two. The Julius Thruway is the freeway system circling the city, and is split into four parts; Julius Thruway North, Julius Thruway South, Julius Thruway East and Julius Thruway West. The Julius Thruway is famous for the number of illegal street races, happening on it. In 2008, the street races on this freeway were the reason of 251 car accidents, 1390 injuries and 139 deaths.
Local SportEdit
Las Venturas is home to the Las Venturas Bandits, who aren't based on any real life baseball team, as real world Las Vegas has never held a major league sports team, in any American pro sport. There is a minor league baseball team, the Las Vegas 51s, but it is likely that the Bandits are not meant to emulate the 51s. The Bandits play at the Las Venturas Bandits Stadium in the Redsands West district of Las Venturas.