{{Government organization
|BG1=-
|BG2=555555
|imageBG=
|name=Detective Bureau
|image=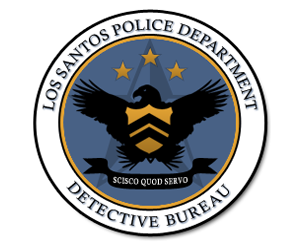 |hidei=
|motto=
|founder=
Los Santos Police Department
|leader=Harlem Banks (? - 20/11/09)
(20/11/09 - 01/01/10)
R. Farrell (07/02/10 - 08/04/10)
J. Carter (08/04/10 - 17/04/10)
M. Abdulaziz (18/04/10 - 24/04/10)
Angel Castillo
(24/04/10 - 01/07/10)
Nicole Benson (02/07/10 - 08/07/10)
(08/07/10 - 16/07/10)
A. Garcia (28/07/10 - 29/07/10)
C. Aislin (10/08/10 - 20/09/10)
C. Redfield/A. Keener (20/09/10 - 29/09/10)
V. Wareham (31/10/10 - 04/11/10)
N. Najafi (04/11/10 - ?)
D. Moradi (01/02/10 - 03/03/10)
P. Anderson (03/03/10 - 24/03/10)
Aries Aulorius (? - present)
|members=
|headquarters=
|hideh=
|founded=1922
|dissolved=
|reorganized=
|restored=
|hideo=
|type=Special Investigative Division
|area=
|divisions=Major Cases and Corruption Division
Organized Crime and Narcotics Division
Fugitive Recovery and Missing Persons Division
Homicide Division
|bureaus=
|affiliation=
Los Santos Police Department
}}
The
Detective Bureau
(DB) is a sub-division of the Los Santos Police Department (LSPD) which focuses on investigating a wide spectrum of crimes; from misdemeanors to organized crime syndicates. Until end 2010, DB was the only possible investigative unit in Los Santos and its counties (Red County, Flint County, Whetstone), later on making place for the State Police department Bureau of Criminal Investigations (BCI) which specialized in the take-down of organized crime networks within San Andreas, and Los Santos in particular as the hornett nest of key figures of the Underworld.
Some enthusiasts that promote the existance of a Detective Bureau related to the LSPD as an additional branch claim that crimes close to society are being rejected by the State Police that solely focuses on the annihilation of organized crime.
In 1922 the Detective Bureau was founded as a sub-division responding to the rise of local gang activity ordered by the Los Santos Municipal Government city council. Their focus was a team of specialized investigators with a sense of serving as a tool for misdemeanors, while also capable of coping with the rise of gangs after an influx of immigrants ventured forth to the heart of Los Santos itself.